The CCERA Site
CCERA, Canadian Centre for Experimental Radio Astronomy, is situated on a rural campus near Smiths Falls, Ontario, Canada.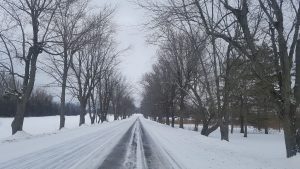 The campus was once used to house a government institutional care program for disabled adults. The provincial government moved out of the campus in 2009, and it was subsequently acquired by a private corporation. The site occupies roughly 141 hectare (348 acres) located a few km from the downtown core of Smiths Falls. The site includes over 800,000 square feet of various types of institutional buildings, all connected together though ground-floor and basement hallways.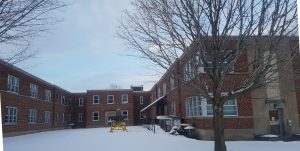 CCERA arranged to rent office/lab space and copious roof space in the fall of 2016. We grew out of the notional "remains" of the Shirley's Bay Radio Astronomy Consortium, which ceased operations in 2013 due to a loss of access to the main asset, an 18m satellite earth-station.
The location is quiet, both in terms of human activity and relevant RFI. The CCERA operates a 611Mhz interferometer at the site, in addition to the 21cm spectrometer. Neither instrument is unduly affect by RFI most of the time.